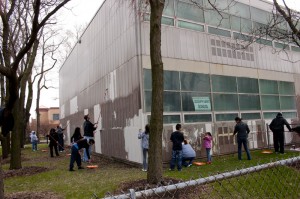 On Saturday, April 23, 2011, neighborhood residents and volunteers gathered at the Gary/Ortiz Elementary School Campus at 31st and Lawndale in Little Village. Coinciding with Earth Day and Global Youth Service Day, Beyond the Ball created "Our Little Village", as an effort to jumpstart local residents taking ownership of their neighborhood.
Over 750 people came out to paint, clean, remove graffiti and beautify Little Village. The crowd is divided into groups to accomplish as much as possible in a four hour time period, and what a difference it made. Check out the before and after photos on our facebook page.
Past events have provided a great boost to areas around local schools and parks, and the hope is that residents continue to effort around their homes, not just for one day, but on an ongoing basis. Reclaiming our space is a large part of Beyond the Ball's philosophy, and we hope to continue encouraging neighborhood residents to take ownership of their neighborhood.
Many groups help with our efforts, and we are grateful for their support. City Year, Enlace Chicago, La Villita Community Church, New Life Community Church, and Sherwin Williams all helped with Our Little Village.
The campus of Gary and Ortiz Elementary Schools, the primary site for much of our programming, received a complete facelift. It was a great cooperative effort. Thanks to everyone who came out to support Beyond the Ball and Our Little Village.
This is not a one day effort, though. It is just the one part of a concerted effort to use public spaces for the betterment of our community. Our summer programming continues the effort to take over public spaces for the good of all the people.
Be sure to join us at next year's event! Stay tuned for a the date to be announced in the Spring.