Every summer, we host Project Play, which reclaims underutilized space in Little Village by providing recreational activities for kids and families. Every Tuesday evening, hundreds of people gather at the Gary/Ortiz school campus on 31st and Lawndale, to play basketball,soccer, t-rex tag, kickball, and much more. Ropes are jumped, hula hoops revolved, and faces painted. Individuals and families forge a stronger community through shared activity.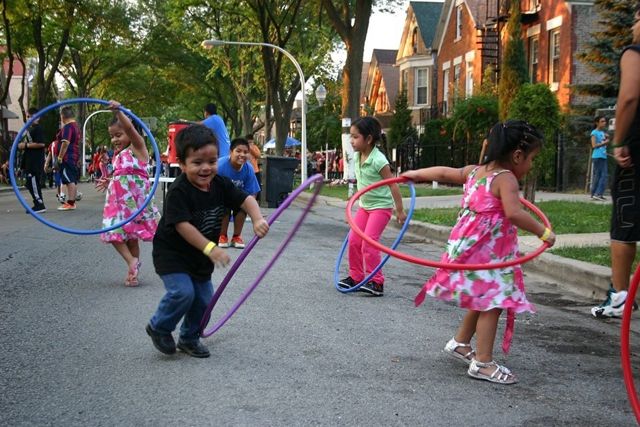 Project Play was also honored by Beyond sport with the Most Courageous Use of Sport Award at the Beyond Sport Summit, in 2010, from over 400 entries from 120 countries around the world! Beyond Sport is a London-based organization that recognizes non-profits using sport for social good, and Beyond the Ball is honored to have been the first-ever U.S. based recipient of this award.
The community impact of Project Play has been noticeable locally as well. A space once dominated by gangs is now utilized by families–the space has been reclaimed for positive use. Though surrounding areas are still heavily tagged by gangs, the graffiti has been greatly reduced on the school campus. This play space that was historically known as a place of conflict is now a place where community residents regularly come together to play.
Special thanks to the support we received from the Dave Bolland Foundation and the Finish Line Youth Foundation, who have helped to make Project Play a success!

Check out the video below to see some of the fun we have at Project Play:

When is Project Play?
Project Play runs every Tuesday evening, from 5-8pm, starting June 13th, 2017 to August 29th, 2017. We show a movie on the field around 8:30pm, once it gets dark.